Explore the World of Brightpoint AI
​
DOCUPARSE | DOCUGEN | DOCUSEARCH
Effortlessly extract and sort data from structured and unstructured documents
Efficiently search and retrieve information from 1000s of documents with
AI Assistant
Analyze, Generate, Create and Review content with AI as per company branding & rules
Eliminate manual tasks and experience the power of AI automation for your documents
Dcouments Expertly Classified
Entities and Relationships Unlocked
Experience Cutting-edge Technology at your fingertips
Intelligent Character Recognition (ICR)
Leveraging Natural Language Processing (NLP)
Implementing Robotic Process Automation
Enhancing Document Management with Generative AI & Computer Vision
​
Embrace the future of AI-Powered Document Management Suite with Brightpoint AI, where the capabilities of Generative AI drive intelligent document generation and analysis. The synergy between Generative AI and our Document Management Suite promises to make your document processes smarter and more automated than ever before.​
Streamlined Document Creation
Intelligent Data Retrieval from Documents
Advanced Textual Analysis
Global Document Accessibility
Data Precision and Verification
Automating Document Workflows
Efficient Document Sorting and Categorization
How Brightpoint AI's Document Management Suite Helps to Simplify your Workflow, Save Time and Manual Effort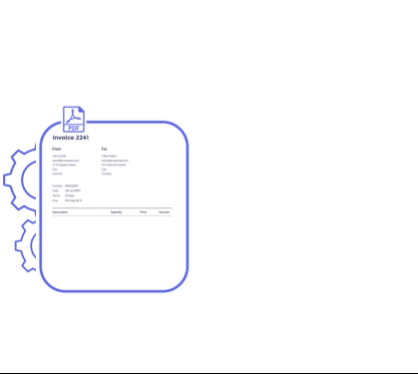 Automated Document Generation





Optimize time and resources by leveraging

DOCUGEN's

generative AI capabilities, which autonomously generate comprehensive documents, reports, or summaries from both structured and unstructured document inputs.
Quick Information Search & Retrieval





Utilizing vector data stores for efficient text retrieval,

DOCUSEARCH's

Chat Flow agents empower you to interact intuitively with your documents. You can pose questions such as "What are the credentials of the individuals who reviewed this report?" or "Summarize the key findings of this study for me?"
Cutting-edge Text Analysis





Delve into advanced text analysis that surpasses basic keyword extraction.

DOCUPARSE

comprehends context,

facilitating a more profound extraction of insights from documents and enhancing decision-making processes across diverse domains.
Elevate your Document Management Processes with AI-Powered Solutions
Get in Touch for More Information
Brightpoint AI's Document Management Suite (DMS) is a transformative solution for industries dealing with extensive manual document review. Through the implementation of automation, we not only streamline your workflow but also generate significant savings of resources, cost, and time.

Whether you're dealing with medical records, legal document reviews, financial records, educational data, governmental documents, real estate transactions, or retail data, our advanced Document Management Solutions are tailored to efficiently process and extract insights from unstructured data. Don't allow valuable information to be buried in mountains of paperwork. Schedule a call with our Experts to understand how we can enhance your operations.
Winner of 2023

Stevie® Awards

for Tech Startup of the Year
Dipika Mirpuri selected to join

Leadership Miami®

by the

Greater Miami Chamber of Commerce
An article by Dipika on How

AI Can Help Drive Student Success in Higher Education

Institutions has been published in the

Florida Technology Council
Explore Brightpoint AI Solutions
Revolutionizing Agriculture with AI-Powered FarmSense and Drones
Delivering Custom-Made AI and ML Solutions
Automate Document Parsing with Brightpoint AI's DocuParse